If you're welcoming Airbnb guests in the coming days or week(s) for the upcoming year end holidays, then do them and yourself a favor by presenting them with a guide to all things culture, shopping and fun in Los Angeles.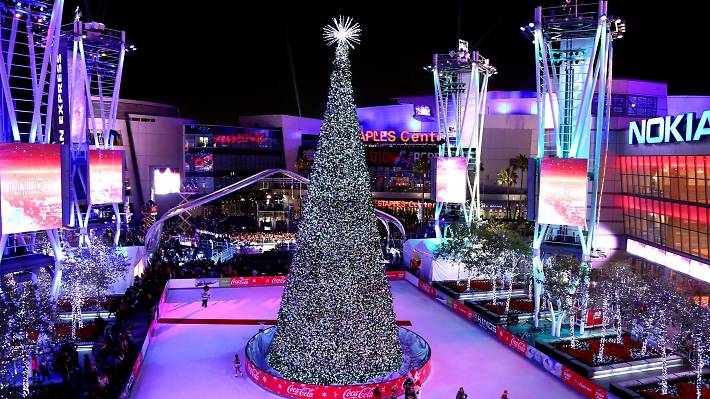 Malibu Country Mart WInter Wonderland

The Malibu Country Mart is changing into a one-stop festivities location for all your holiday (Christmas and Hanukkah) needs. Along with the who's-who of luxury and high end retailers, every Saturday prior to December 25th, there will be fun and free activities for families who are looking to get the kiddies pumped up for the holiday season. Such activities include dreidel playing and stocking decor in sun drenched Malibu starting on December 5th. There will be a photo booth with Santa and cookie cutting and decor party on Saturday 12th. Santa will also be making visits with his reindeer on December 19th at the grand finale. Rumor is it the reindeer will be real and there will be toys for tots.
Greystone Mansion Christmas Carolers
Don't waste your time with the amateur door knockers, head to Greystone Mansion to view the professional singers representing Christmas Matters Holiday Carolers who have been sharing cheer and song for over two decades including inside this local landmark. Expect holiday classics in the Beverly Hills home living room, all attired in Dickensian outfits. When making reservations be sure to note that a light lunch buffet style or enjoy their dessert with a sparkling cheer and toast.
Los Angeles Master Chorale Messiah Sing Along
Head to the Disney Concert Hall and catch the annual Messiah Sing Along. The special event permits the over 2,000 person audience to sing their little hearts and voices out along with the Los Angeles Master Chorale which is led and conducted by the artistic and famous Grant Gershon. Sing along songs are performed an orchestra that is professional as well as a quartet of professional soloists. But even though this is Disney don't expect Miley Cyrus or a baby faced Justin Timberlake. This is the real deal.
Other ideas include:
A Chanticleer Christmas
The Music Center Holiday Sing Along
Groundlings Holiday Show
Gay Men's Chorus of Los Angeles Holiday Spectacular
Bob's Holiday Office Party (a play)
Newport Beach Christmas Boat Parade
A Christmas Carol (a production)
The Nutcracker (a play)
LA Kings Holiday Ice at L.A. Live