As the peak summer vacation season winds down in the Lake Tahoe area, you may be considering tackling those renovations you've been putting off all year. Or, perhaps you're looking to invest in a new Lake Tahoe vacation rental before the peak winter travel season begins. Whatever your goal, here are some vacation rental amenities that are sure to increase your bookings for a mountain getaway.
Install A Fireplace
Who can resist sitting around a roaring fire after a day on the slopes? Whether your guests are a group of friends coming for a reunion or a couple looking for a romantic long weekend, a fireplace is one of those must-haves for a Lake Tahoe vacation rental.
Many fireplace options are available today. A good, old-fashioned, wood-burning fireplace is definitely appealing but can be much more difficult to add to a home. Many gas fireplace inserts are easier to add (and operate) and still provide the cozy atmosphere. Other fireplaces can double as a main or adjunct heating source for your vacation rental.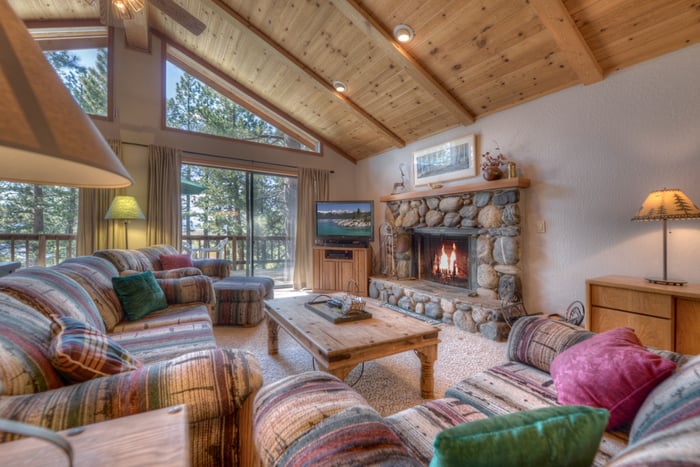 Build A Storage Shed
Anyone who comes to Lake Tahoe will either bring, borrow, buy or rent a fair amount of gear to enjoy the great outdoors. Ski equipment, snowshoes, tubing toys, ice skates, sleds and snowboards can be big, bulky equipment used frequently in the winter season. When warmer weather rolls around, add to the storage shed the mountain bikes, rock-climbing gear, camping equipment, backpacking items, and water sports gear.
Consider designing a large, customized storage shed with particular hooks, shelves, nooks and spots for all your favorite gear. Remember all this gear makes great vacation rental amenities for your guests as well.
Add Pampering Amenities
Vacationers love to be pampered and what better way to pamper your guests than with a sauna, hot tub or both? Saunas and hot tubs provide wonderful relaxation to the body, especially after skiing on the slopes, biking through the mountains or hiking steep trails.
Another amenity sure to spoil your guests is radiant floor heating. Build it right into your tile, cement or wood floor for maximum winter comfort. Radiant heating is also a great way to improve a rental unit's energy efficiency.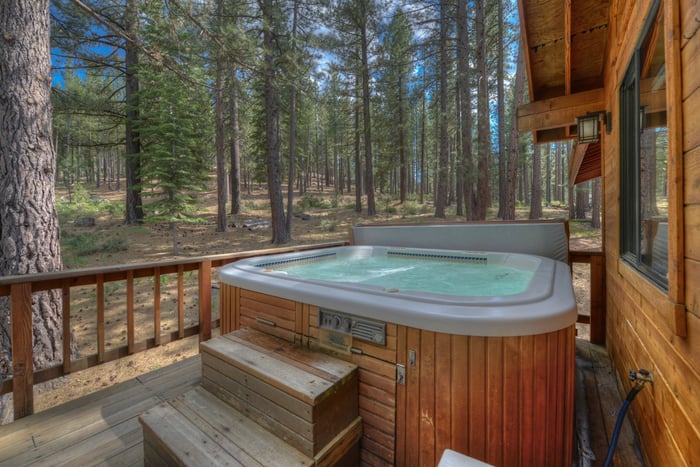 Invest in Windows and a Mudroom
Lake Tahoe sees a lot of sunshine, and a vacation rental with lots of windows can be so cheery, warm and inviting. The sun's rays can also help heat your vacation rental, providing an inexpensive way to reduce your heating bills.
While you're at it, place a few bird feeders right outside a few of those windows. Lake Tahoe is full of wildlife and beautiful birds visiting near your vacation rental is sure to be a pleasing site to those on vacation.
By adding a mudroom adjacent to a laundry room, you can keep much of the outdoor muck contained. Provide a spot where wet, muddy or snow-covered clothing and gear can be easily removed, washed and stored.
Arrange for Multiple Guests
If you're looking for a way to add flexibility to your Lake Tahoe rental, find ways to add more comfortable sleeping space. Traditional sleeping options like multiple beds, bunk beds and trundle beds work well to maximize space in bedrooms. Add pieces that can double as sitting room furniture as well as additional sleeping space with pull-out couches and futons. Consider even more options such as providing air mattresses or fold-up cots for those guests looking to squeeze a big group into your Lake Tahoe vacation rental.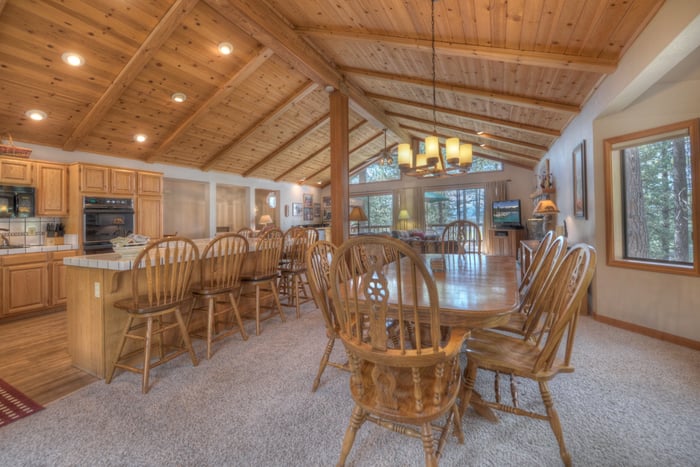 If you want to add something else to our must-haves list, please share with us in the comment section below. And, if you need help with your Lake Tahoe Vacation Rental: