Gorgeous beach towns are pretty commonplace in Southern California, but there are some that stand above the rest. Laguna Beach is one of these otherworldly places that's considered to be one of the most beautiful places in the entire country and has absolutely tons to offer to those lucky enough to call it home. Naturally, this also makes it a popular place to visit, and if you're renting a vacation home here you're also lucky –Laguna Beach is truly a place of paradise.
Like most beach towns it has... well, beaches, and other beachy-related amenities, but if you're fortunate enough to be a native then you're probably in the know about these 11 Laguna Beach hidden gems and local secrets:
1. The Pageant of the Masters is a worldwide phenomenon for a very special reason. (Hint: It has to do with living pictures based around a theme!)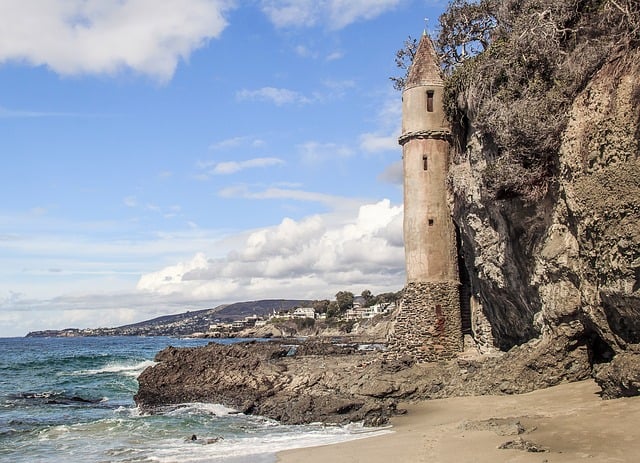 2. History buffs love the Laguna Beach landmark Tower at Victoria Beach. This medieval-looking tower is located just north of Victoria Beach. Built in 1926, it was designed as a private spiraling staircase for beach access from above. Today, the tower is closed, but it can still be viewed at low tide.
3. Main Beach is for tourists. Locals spend their days lounging at Thousand Steps Beach.
4. Old-time movie fans love exploring Treasure Island Park, where "The Long Long Trailer"—starring Lucille Ball and Desi Arnaz—shot many of its scenes in 1953 (formerly known as the Treasure Island Mobile Home Park).
5. The Hortense Miller Garden is one of the most colorful and exotic places in the area for botany lovers and locals alike. Covering two and a half acres of the upper slopes of Boat Canyon, this beautiful garden showcases a range of plants, which can be grown in Southern California's coastal zones.
6. When it comes to yoga, the best sessions are at the Laughter Yoga Institute, which meets at the northernmost end of Main Beach. This unique experience uses the practice of laughter as a form of exercise. Free sessions are conducted by a certified Laughter Yoga teacher and are held Sunday through Friday at 8 AM and Saturday at 10 AM.
7. The Sawdust Festival is on the local's to-do list. It features 200 Laguna Beach artists from every genre possible. Here you can browse paintings, jewelry, ceramics, photographs, sculptures, art glass and textiles native to the area. You participate in demonstrations, workshops, and entertainment at this festival that runs every summer, with seasonal events held throughout the year.
8. Little-known fact: the Hotel Laguna was once a wooden structure built in 1888 and was rebuilt in 1930.
9. Laguna Beach is home to a very unique church: St. Francis by the Sea. It was once acknowledged by the Guinness Book of World Records as the smallest church in the world and is now the second smallest Catholic Church in the World at 1,008 square feet. This 42-seat cathedral was built in 1933.
10. Laguna Beach has an official greeter for visitors! Eiler Larsen has been Laguna's Official Greeter since 1963, when the city of Laguna Beach proclaimed him the Official Greeter of Laguna Beach. Though Eiler isn't around to personally greet travelers anymore, his spirit lives on in two statues of this special man which can be found in town at 329 South Coast Hwy. and 1200 South Coast Hwy.
11. Oohs and ahhs abound over the Bette Davis House, an English Tudor home built in 1929 at 1881 Ocean Way that overlooks beautiful Wood's Cove, a place where the actress lived during the early 1940s.
Laguna Beach, True Paradise
Laguna Beach is a undoubtedly a special place that boasts many attractions from parks to beaches, historical monuments, and much more! For those who call this beach town home, they love their city and they can answer yes to doing most – if not all – of the above. If you're visiting and renting a place while vacationing, you, too, will be able to check off this list sooner than later!
About the Author: Debbie L. Sklar is a freelance writer and editor based out of Southern California. She specializes in writing about lifestyle, fitness, food, DIY and celebrities. In her spare time, she enjoys playing with her Shih Tzu, Gabby, playing golf and is writing a book about a former Hollywood actress.