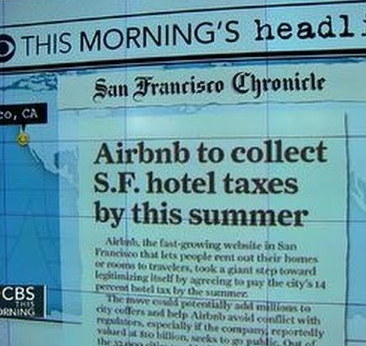 Airbnb Calls for Rally at City Hall
In addition to being the Founder of Air Concierge, Inc., I'm also a homeowner with my own short term vacation properties listed on Airbnb.com. As such, I'm a recipient of their infrequent email alerts. Most pass without so much as a double glance-over and 'delete'. But this one caught my eye. I'll share it with you now.
Hi Ryan,

My name is David Owen and I work on public policy in San Francisco. I'm reaching out to update you on breaking news affecting home sharing in San Francisco.

We've just learned about a ballot initiative being drafted by opponents of home sharing that will be introduced tomorrow that would severely limit — and possibly ban — short-term rentals in San Francisco.

We don't have all the details yet, but the initiative would make it significantly more difficult and costly to share your home. We will share more details about this proposal as soon as we have them.

Peter K., one of our hosts, has led the charge to organize Home Sharers SF. He is organizing an event at City Hall tomorrow to urge the City to move forward with sensible regulations that enable our community to continue doing good.

Can you join us at 12:30 PM tomorrow, April 29th, at Civic Center Plaza, on the Polk Street side of City Hall? Click here to RSVP.

Home sharing has been in the news a lot these last few weeks. The proposal being introduced tomorrow opposes the regulation recently sponsored by Supervisor David Chiu. It's important for all of us to engage in the legislative process, it's a way to make your voice heard and speak out about something you care about.

There's nothing more powerful than your story and your voice. I hope to see you tomorrow.

Thank you so much.

David Owen
As you can tell, things (as we've been reporting on this site for weeks) have reached def-con-9 status. In fact, this past Sunday (4/27/14) it was reported by the Marina Times that David Chiu (an advocate for the home sharing legislation that would slightly restrict but still allow/enable airbnb type rentals to continue) had presented his plan for dealing with these rentals. It is the response to this proposal that is generating code-red status at Airbnb. Where is this response coming from? For example Jane Kim (District 6 supervisor) introduced a bill in April that would require a conditional use permit for any new market-rate housing, "If the production of subsidized housing for affordable units drops below 30 percent."
When Airbnb starts calling for and/or supporting community rallies in opposition of local legislation, you know stuff is getting real.
So what do you think? If you're a SF resident with a listing on Airbnb.com, will you go to the rally?