Background
Cindy and Jon inherited Cindy's mother's San Diego home in 2012 following her passing earlier that year. The home maintained many of its original amenities and decor, in addition to an outsized first and second mortgage. The home meant everything to Cindy and was a place of fond memories both during her younger years and her now grown children's upbringing. Keeping the home at nearly all costs was the sole motivation. The problem however was that Cindy and Jon live in Laguna Niguel, a city approximately 1hr. north of San Diego. They were also dealing with their own life issues, including overseeing another distant family property in Ohio that was consuming much of their time, attention and resources. Trying to juggle all of it was proving daunting, but not realizing there was a professional Airbnb/VRBO manager in their area, they began to undertake the transition from personal property to vacation rental on their own.
It didn't take long for reality to set in. Questions they were asking included: What websites do I list my home on? What do vacation renters want in a vacation home? Do I need to update my decor or furnishings? What happens if there's damage in the home? Who will the guests call if there's a problem in the middle of the night? If there are problems, who will go to the home to make repairs? What if my cleaners don't show up? What if my cleaners show up but do a bad job? What price should I list the home at? Should I have a minimum number of nights per booking? What happens if my neighbors have an issue with the renters? And on and on.
Cindy then did a search on Google for "Vacation rental manager San Diego" and found Air Concierge.
SOLUTION
When Cindy called us we spent 20 minutes on the phone going over the 'what-you-need-to-knows' about vacation and short term rental. We arranged for an onsite visit to the home. We spent two separate visits going through the home and identifying what should stay and what should go, where some money in upgrades and updates should be invested and what could be 'left as is'. It took 2 months to go from the 'before' to the 'after' and so beginning in March 2014, Cindy and Jon were officially listed online.
During that interim period working together, Cindy and Jon decided on the minimum age limit for renters, the minimum price that Air Concierge should accept, that pets were okay (so long as there was only 1 and it was under 20lbs.), and that the home should be blocked off for friends & family use periodically throughout the year.
Almost immediately Air Concierge got the home's first reservation. And then a second. And then a third, each more valuable than the previous one.
By the end of the first calendar year, Air Concierge had generated over $84,000 for Cindy and Jon while enabling them to use the home for over 5 separate weeks throughout the year.
To this day, Cindy and Jon remain loyal and longstanding clients of Air Concierge. They continue to do better financially year over year in addition to having use of the home whenever they or friends/family are looking for a coastal getaway.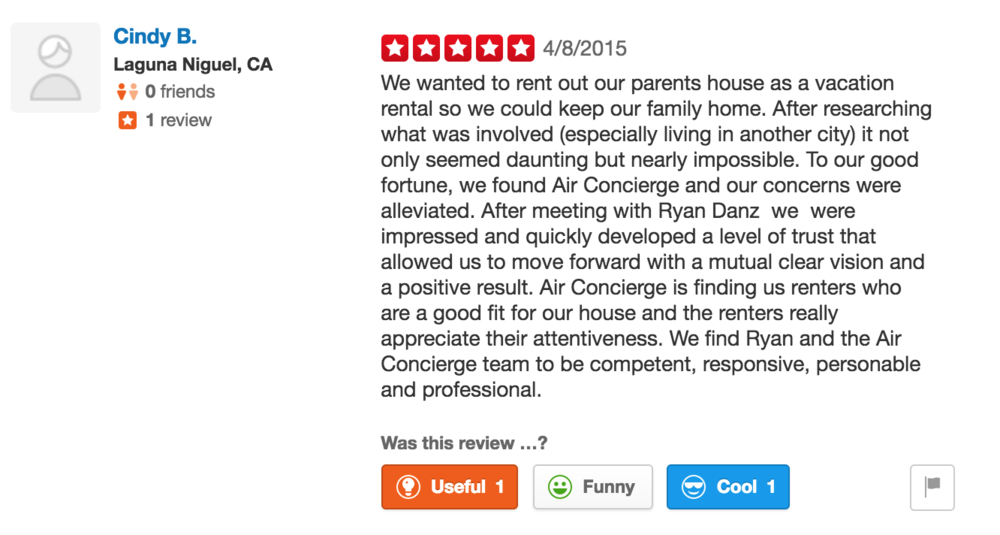 ---
HOW MUCH INCOME COULD YOUR HOME EARN?