When the last of the turkey left the Thanksgiving table, the holidays got into full swing with the lighting of Christmas trees, the signing of carols and the sipping of hot cocoa. The hustle and bustle of the holiday season is more enjoyable when people are surrounded by their families and people that they love. HomeAway asked 1,000 people of all ages what plans they had made for the holidays.
Almost all adults, 95 percent, said that spending time with family was the most important thing to them during the holiday season. Almost everyone had a story to share of ripping wrapping paper off a highly anticipated gift while the rest of the family watched in eager anticipation around the Christmas tree.
While children may be more hesitant to admit it, over 70 percent of them also said that the most important thing about Christmas was spending time with their families. Parents may want to remind children of this fact, however, when they are breaking up fights with favorite cousins, nieces and nephews.
Over the woods and through the vales to relative's houses over 25 percent of families will go this holiday season. According to the Bureau of Travel Statistics, over 91 percent of travelers will load up their personal vehicles to make the journey while 5 percent will jump on a plane and the remainder will hop on a bus, train or ship. Regardless of the method, all will be intent on going home for the holidays.
While parents are focused on travel itineraries, the youngest members of the family have a very real concern. They want to make sure that Santa can find them this holiday season. About six in 10 children say that Santa uses magic to guide his sleigh to their location while about 8 percent believe that Santa relies on his GPS to find every child.
It would be a nightmare if Santa could not find a child on Christmas. Therefore, HomeAway has created a special app called Reroute Santa allowing parents and children to tell Santa exactly where they will be staying on Christmas Eve. After all, good communication is key to helping Santa deliver presents to over 1.9 billion children under the age of 15. After entering the information into this Santa approved app, Santa has one additional request. Do not forget to put out his milk and cookies.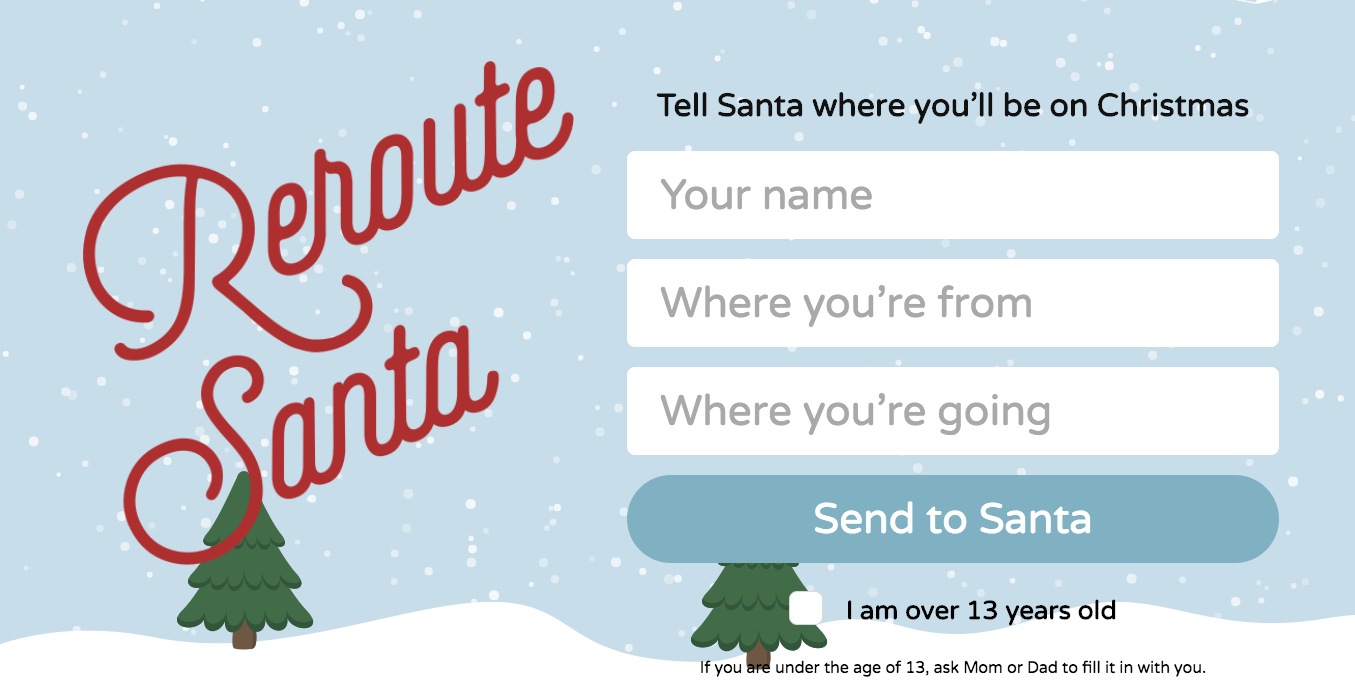 While some adults are quick to dismiss children's fears, many are very concerned about where they will stay this holiday. Some have vivid memories of sharing a too small bed with other family members while others recall spending a sleepless night cuddled in a sleeping bag on the floor. Still others recall trying to sleep in their vehicles because there was no room at all in their relative's home.
If these memories are still fresh, then we would like for you to consider renting a place to call your own, this holiday season. These vacation homes offer space helping to keep everyone's nerves in check, an extra kitchen that comes in handy for preparing the big feast and a place for you to spend Christmas with your four-legged friend. While going home for the holidays is important for most people, having your own space often helps prevent family melt-downs this year.
If you want us to help you find a vacation home for you and your family, send us a message BELOW, We'll respond immediately!
Share in the comments below your favorite Christmas memory!