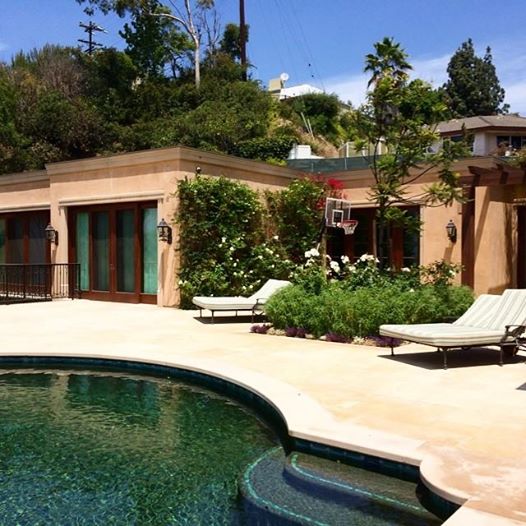 Owning a vacation rental property is pretty fantastic. Taking care of it, however, brings up some concerns, mainly:
how to earn the most revenue
how to navigate any legal implications
how to best manage the property and guests
We already talked about getting more bookings for your vacation rental and the most important vacation rental laws, so now it's time to discuss management options for your vacation rental.
There are 4 basic ways most vacation rental properties are managed, and we'll give a brief overview, the pros and cons, and which owner demographic each option is best suited to help you make a decision for your own property. Each management option includes what we call the pre-guest arrival phase (listing, inquiry, and booking), and the post-guest arrival phase (on-site guest interaction and property services). Read through (or scroll, if you must) for a fun flow chart!
The 4 Vacation Rental Property Management Options
1. Owner Management
Many vacation rental property owners start out wanting to manage their properties themselves. For the do-it-yourself types, this makes total sense: the owner has complete control over the rental listing and guest selection and gets 100% of the booking fees (minus the costs for cleaning, taxes, and supplies).
Web-savvy owners enthusiastically embrace listing their properties on multiple websites, writing descriptions, taking photos, and preparing documents for guests (including the rental agreement, house rules, check-in instructions, contact information, and damage protection policy). This group also enjoys being present at their guests' arrival, handing over the key, helping them settle in, showing them the property amenities, and being available for emergencies or a quick text about the DVD player. Guest check-out is just as important, and an owner is likely to know exactly where to check for possible damage.
There's one big drawback with this method: the owner has to pay for everything in this business, including credit card processing fees (3%), subscription and pay-per-booking site fees (5%-13%), cleaning fees (7%-10%), damage protection policy (1%-3%), and transient occupancy tax (10% if applicable), plus the costs for restocking the toilet paper and other supplies. Generally, an owner managing his or her own property can expect to net 60%-70% of the booking fee. If you add in the amount of time it takes to properly manage a vacation rental (including guest communication before the property is booked), that number can drop to 54%-60%.
This style of property management is best suited for individuals who have a lot of free time and owners who are making a business managing several of their own properties at once. It is not suited for individuals juggling a career and family and property management, or those who value their time at more than what their property would earn. Since most property owners are hoping to turn a profit with their homes, it's best to take an honest look at the time and costs of managing your vacation rental property before deciding to go it alone.
Pros:
The owner can pick and choose who occupies the property and gets payment direct to his account at the time of booking.
No contracts or commission agreements with outside agencies.
Most affordable option, assuming time isn't an issue.
Cons:
The time required to handle the entire process from start to finish, and the potential lack of knowledge on how to deliver exceptional service in the beginning. As the online vacation rental industry blossoms it becomes more and more a business, not a hobby.
Owner is responsible for all costs and responsibilities.
2. Traditional Property Management
Vacation rental property owners who are not interested in managing their properties themselves tend to turn to traditional property management, essentially handing over everything to a qualified individual or agency and collecting a check at the end of the month.
For obvious reasons, this is another highly appealing management style for properties that meet the manager's requirements. But first, let us explain the difference between a traditional property management agency and a vacation rental property management agency. Traditional property managers almost exclusively work with properties that are rented out to long term tenants (6-months to 1-year or more), and take care of the types of maintenance that long term tenants need, such as carpet cleaning and painting; vacation rental property management agencies are used to a high turnover rate and take care of short term maintenance, such as vacuuming and dusting.
A traditional property manager will be responsible for listing the property, making sure it books, and being available for the renters (although usually only during business hours), as well as preparing the property for each guest.
Traditional property management works best for owners who are able to walk away from the property for an entire calendar (typically, those who either spend all of their time traveling or who are renting out a second property). Owners with a "just get beds in heads" mentality to their property tend to do the best with traditional property managers. This is not the case for those who are using their primary residence to rent out to vacationers or who will want access to the home for personal use or to let friends and family stay during the year. Fees for traditional property management run from 25% - 50%, depending on the property state and location.
Pros:
Owner doesn't have to do a single iota of work, except cash a check.
Cons:
Owner has no say over who is booking the home.
As much as 50% of the revenues going to the management agency.
Sometimes stringent contract clauses disallowing owner to use the property.
3. Enhanced Traditional Managers
The third management option is a type of manager that is in between the first two. This relatively unknown type of manager is essentially a traditional property manager who will work with owners who want access to the property from time to time. These managers handle all aspects of the property, both pre-guest arrival and post-guest arrival, and we call them enhanced traditional managers.
Enhanced traditional managers aren't available in all areas yet, and tend to work with luxury vacation rental homes. Fees for this type of management range from 18%-30%, making them more affordable than traditional managers. This style of management works best for owners who do not want to have any responsibility managing their vacation home, but would still like access to it from time to time. This style probably won't work for owners who don't have another home to live in or who have a property in an area this service isn't available. Plus, this style of vacation rental property management tends to have similar contracts as traditional property managers.
Pros:
Owner doesn't have to do anything except cash a check every month.
Owner gets to stay in the property, or allow friends and family to stay, with notice.
More affordable than traditional property management.
Cons:
Owner has no authority over who is booking the home.
Sometimes stringent contract clauses or lengths.
More expensive than owner management.
Only available in certain cities.
4. Vacation Rental Concierge
The final option is the newest of the four and is a true hybrid of management styles. With a vacation rental manager, the responsibilities can be split between owner and management agency, allowing the owner to be involved in the most important details while giving the daily management responsibilities over to a reputable agency. Vacation rental owners are usually most concerned with verifying the authenticity of the guests staying in their homes, making sure payment is processed, and getting good reviews for their property and management. With a vacation rental concierge, the owner will be responsible for listing the property, qualifying and booking guests, and collecting payment. The concierge will meet guests at the property, hand over the keys, give a walk-through of the property, explain house rules, highlight property amenities, set up a welcome package (optional), collect keys at check-out, perform a check-out walk-through, and report back to the owner. A concierge will also be available for guests 24/7, can arrange for cleaning services, and will re-stock supplies.
Vacation rental concierge fees tend to be a flat fee per booking, not commission-based like the other property management services (however, this works out to be about 5%-10%), and is usually scheduled per booking, although longer term memberships are available.
Pros:
Owner chooses the guests.
Owner collects payment directly from guest or booking site.
More affordable than traditional or enhanced property management.
Owner doesn't have to take care of the daily property management tasks or be available for guests (unlike owner management).
Guests have a dedicated concierge to answer any questions.
Cons:
Time required to list and book the property.
Giving some of the profits to the concierge.
We understand this is quite a lot of information to absorb all at once. Here's a simple way to look at your needs objectively and help you decide which vacation rental management style is best suited for you and your needs.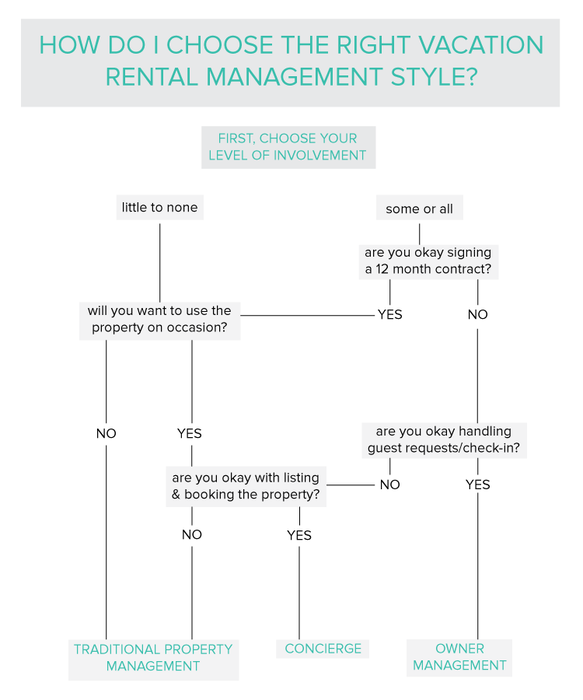 Vacation home owners used to look at their property as a way to make some extra cash in between uses, but so many owners are now seeing their properties as a business that requires expert management. While some owners are more than happy and capable of taking care of the daily management tasks, not everyone has the schedule (or patience) to allow this. Fortunately, the vacation rental management industry is growing, giving owners more options than ever before.
As always, if you choose to bring on an agency to help you manage your vacation rental property, make sure to ask plenty of questions and read over any contracts carefully to make sure you know your rights and responsibilities.