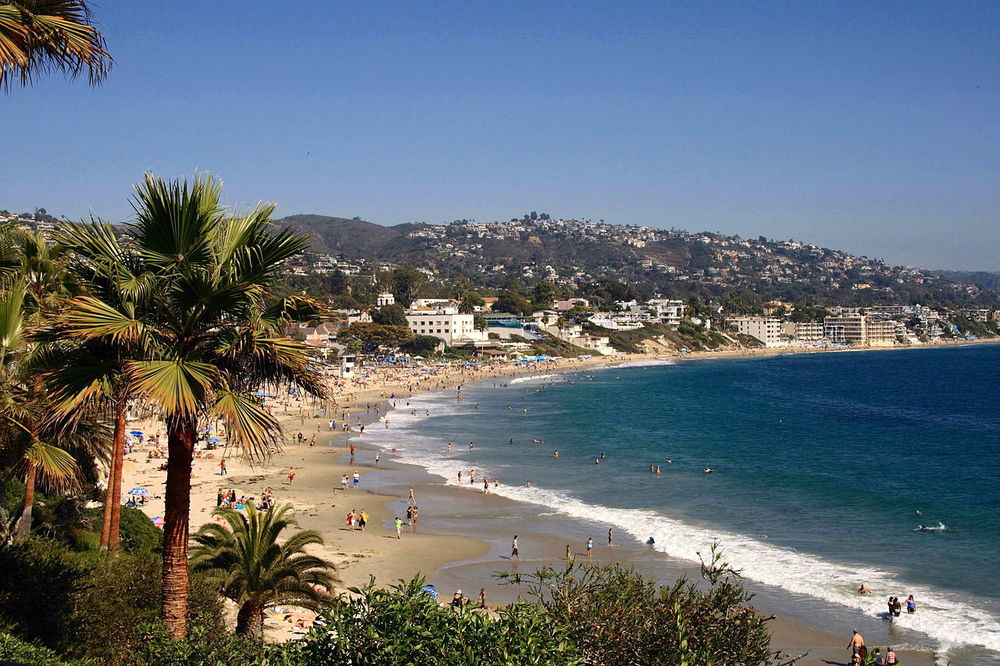 If you don't think paradise really exists, you haven't been to Laguna Beach, CA.
Officially founded in 1887, the city of Laguna Beach was incorporated in 1927 and is a unique Southern California city, largely thanks to its spectacular topography. The lush landscape includes breathtaking coastal mountains, rolling hills adorned with chaparral and endangered coastal sage scrub, unusual geological formations that plunge into the ocean, and more than 30 individual coves and beaches along an eight and-a-half mile stretch of coastline to explore.
Still a Must-Go Destination
To this day, Laguna Beach continues to be a popular resort town attracting people from all walks of life, ranging from celebs to Europeans. The city's newest addition to its varied hotel and resort scene that opened in 2003 is the Montage Laguna Beach. Situated on some of the most celebrated land in Orange County, the hotel often entertains the Hollywood crowd, including Heather Locklear and Jennifer Aniston.
Because it's not far from Hollywood, Laguna Beach became a favorite filming location that goes way back. Starting in 1913, dozens of silent films were made at local coves with Harold Lloyd, Mary Pickford, Douglas Fairbanks, Jr. and others. Actors and film crews stayed during long production shoots at the Arch Beach Tavern on the hillside above Moss Street, according to history. In more recent times, movies including "Savages" and portions of "Beaches" have been filmed in Laguna Beach, to name a few.
It's easy to see why there is such an allure since the city is just steps from the cool waters of the Pacific Ocean, great shopping, artist colonies, surfing, beach living, and a place where visitors can rent vacation homes year round.
Things to Do
The Laguna Beach Visitors Center reminds tourists that there are plenty of things to do year-round in the city where the sunsets are always magical. Here are few suggestions:
Heisler Park
Heisler Park, perhaps one of the most beautiful beaches around is a great half-mile walk on the bluffs of Laguna Beach to see spectacular views of the Pacific Ocean. Stop by the gazebo and checkout the tide pools below. You might see en plein air painter capturing the scenery, surfers catching waves at Rockpile Beach, or even catch a glimpse of a pod of dolphins swimming offshore.
Laguna Art Museum
Visit Laguna Art Museum, one of the oldest museums in California and which has deep ties to the history and culture of Laguna Beach. Works showcased are created by California artists, and represent the life and history of the state, with one of the most complete collections of California art from the 19th century to present day.
Treasure Island Park
This beautiful park, located in South Laguna, boasts some of the most pristine beaches in Southern California. Sharing part of the grounds of Montage Laguna Beach, enjoy beautiful ocean views, public art, and easy beach access.
Boutique Shops on Forest Avenue
Discover an array of trendy boutiques, jewelry and gifts. Find rare books to add to your collection and unique home furnishings to give your home a California vibe. Many of the shops are owned by Laguna Beach residents with items designed by local artists and designers.
Summertime Art Festivals
The Festival of Arts/Pageant of the Masters, Art-A-Fair, and Sawdust Art Festival are held every year during the months of July and August, showcasing compelling works of art by local and international artists, attracting visitors from around the world. The Pageant of the Masters is a world-famous stage presentation featuring "living pictures". Watch as cast members are magically transformed into famous works of art, accompanied by a full orchestra and live narration.
The Laguna Playhouse
Celebrating 90 years of Community Theater in Laguna Beach, The Laguna Playhouse offers numerous productions for residents and visitors alike to enjoy. Award-winning and unique shows play year-round and can be easier to buy tickets for in the winter.
Great Golf
The Ranch at Laguna Beach is where the golfer in you can step into the serene Aliso Canyon, a secluded setting that golfers have been escaping to since 1950 to play a challenging par 32.
Main Beach
Referred to as Laguna's "Window to the Sea", Main Beach is in the heart of Laguna's village. Shop, walk along the boardwalk, watch a game at the basketball courts, see the historic Lifeguard tower, or try laughter yoga on the beach. This is the place to be and the place to be seen if you are in Laguna Beach.
Pacific Marine Mammal Center
The Pacific Marine Mammal Center is one place you do not want to miss when visiting Laguna Beach. This non-profit organization is dedicated to the rescue and rehabilitation of marine mammals stranded along the Orange County coastline. The center is open daily (10 a.m. to 4 p.m.) to the public. Admission is free, however donations are accepted.
Message to All
But perhaps one of the most endearing landmarks to pay a visit to when in Laguna Beach is its famous gate built in 1935 that today stands at the corner of Forest and Park avenues. It reads: "This gate hangs well and hinders none, refresh and rest, then travel on."
Rent a Home
If you are looking for a wonderful place with a European flare (it has three sister cities, after all: Menton, France; San José del Cabo, Mexico; and St. Ives, United Kingdom), where you can kick back and enjoy the sun and surf, Laguna Beach should be on your list. Why not rent a home and take in all of the sights that have made this city a key destination for travelers, as well as locals the world over?
Image: Wikipedia
About the Author: Debbie L. Sklar is a freelance writer and editor based out of Southern California. She specializes in writing about lifestyle, fitness, food, DIY and celebrities. In her spare time, she enjoys playing with her Shih Tzu, Gabby, playing golf, and is writing a book about a former Hollywood actress.