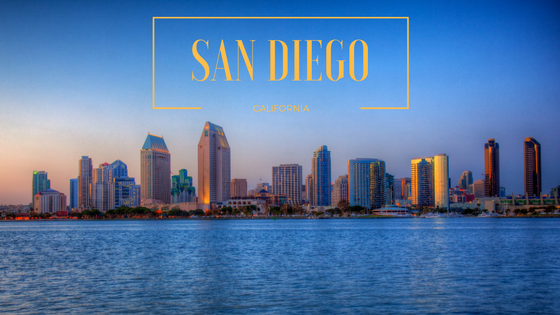 San Diego in the winter? Believe it or not, it's actually one of the best times to visit the city. Unlike the busy spring and summer seasons, crowds are much smaller this time of year, so you can see the city at your own pace. You're probably not going to see any snowfall, but the temperature stays at a comfortable 60 to 70 degrees, and the sunset are even more gorgeous than usual.
There's no shortage of seasonal activities and other exciting things to do in December and beyond. Whether you're interested in the latest theme park attractions, holiday activities, or more low-key local fun, check out this list of popular things to do in San Diego in Winter 2016 so you can plan the perfect itinerary.
1. Jungle Bells at the San Diego Zoo
The San Diego Zoo turns into a winter wonderland for the holidays, with twinkle light animal sculptures and even the opportunity to visit Santa's igloo. Performances include acrobatic elves and "Celebration of the Lights," a musical experience. The Zoo's restaurants serve delicious meals with holiday themes, and even the animal get in on the action with holiday-themed enrichment play. If you've never seen a raccoon open a Christmas present, the Zoo gives you the chance. Make sure you don't miss the dazzling lights on the enormous holiday tree.
2. Holiday Snow Days & Winter Nights at LEGOLAND® California
If you want to see snow, LEGOLAND® is the place to go, as the resort has nightly snow falls in its Heartlake City area and a snow play area with plenty of real snow for the little ones. Kids can also build a snowman out of LEGOs and check out a beautiful Christmas tree, which is also made of LEGOs. A life-sized LEGO Santa and reindeer make for a great photo opportunity, and every evening at LEGOLAND® includes live entertainment and a fireworks display.
3. SeaWorld's Christmas Celebration
Seaworld makes sure to bring in all your favorite Christmas characters, starting with Rudolph the Red-Nosed Reindeer and his friends, who you can meet at Rudolph's Christmastown, which also has a fun and impressive 40-foot dancing tree. Santa hangs out in his cottage, which is also the site of an Elves Dance Party sing-a-long. Every night, Seaworld lights its massive, 320-foot Skytower Tree of Lights, Southern California's largest Christmas Tree.
4. Knott's Merry Farm
Need a unique last-minute gift? Knott's has you covered with its Christmas Crafts Village. It's Merry Farm attractions include several beloved characters, including the Peanuts gang, who you can see at Snoopy's ice skating show and the Peanuts tree lighting. Santa is always around for a picture at his cabin, which also has some tasty treats baked by Mrs. Claus. Don't be scared to visit Ghost Town, as it has a stunning synchronized lights show.
5. Balboa Park December Nights
Balboa Park is the largest urban cultural park in the country, and the holidays are the perfect time to visit, as all of its many museums and cultural institutions offer free admission during the December Nights event. On both nights, the park is packed full of light displays, food, carolers, and performances, including live music, theater, and dance.
6. UTC Ice Sports Center
La Jolla's outdoor mall offers this open-air rink where guests of all ages and skill levels can come skate.
7. Outdoor Ice Skating
You're never too far from a place to skate when you spend the winter in San Diego. Skating by the Sea gives you a gorgeous view while you skate next to the Pacific Ocean, with the Hotel del Coronado's lights shining overhead. Liberty Station has Fantasy on Ice, a rink in an urban environment, which also donates its proceeds to Rady Children's Hospital. Viejas Outlets houses the largest outdoor rink in Southern California.
8. Garden Of Lights
The Gardens provide a classic holiday experience after dusk, featuring horse-drawn carriage rides, crafts, and the opportunity to meet Santa. On select evenings, you can even go sledding through real snow.
9. Reuben H. Fleet Science Center
The Science Center is kid-friendly and has all kinds of fun hands-on activities, including "Kid City," a combination of a play area and an interactive exhibit. There are also images from the Hubble Telescope, microscopes to witness the world of cellular biology, and an area to build free-form structures with planks. As an added bonus, admission to the Science Center includes free admission to one IMAX movie.
10. Natural History Museum
At 134 years old, this museum ranks as Southern California's oldest scientific institution. While its main focuses are the natural worlds of Souther California and Baja Peninsula regions, it also has exhibits related to the world at large. One winter-time favorite is the End of the Earth: From Polar Bears to Penguins exhibit, which transports you to the polar regions. The museum also shows films in its 3-D movie theater.
11. Air and Space Museum
Take to the skies at this museum, which covers aviation from every era, starting with ancient aircraft designs all the way up to space-age flights. Make sure to check out the FS2000 Two-Seat Flight Simulator to get a taste of the pilot experience. The Air and Space Museum gets into the holiday spirit on December 2 and 3, when it has festive décor, food, beer (from 3:30 to 10:30 p.m.), and live musical performances by Full Measure and the Rockin' Cranberries.
12. Museum of Photographic Arts
This museum showcases photography from the 19th century to the present day, with a special emphasis on photographs relating to cultural, historical, and social issues. It participates in the Balboa Park December Nights event with holiday-themed décor.
13. Museum of Man
If you enjoy learning about anthropology and human evolution, this museum has quite the artifact collection and exhibits. It also participates in the Balboa Park December Nights event with activities and, on Saturday, live performances.
14. The Birch Aquarium at Scripps
You can always come to this aquarium to check out living coral reefs, see adorable baby seahorses, hear whale songs, and touch living sea stars. During December, the aquarium holds its "Seas 'n' Greetings" event, which includes live music, face painting, and even appearances by Scuba Santa (check the schedule to make sure you don't miss him).
15. The USS Midway Museum
Located at the Navy Pier, the USS Midway is the longest-serving aircraft carrier in the nation's history. The massive ship has over 60 exhibits and 27 restored aircraft. Take as long as you want to go through the museum, which has a self-guided audio tour.
16. West Coast Whale Watching
Want to see a whale in person? There's no better time and place than winter in San Diego, as that's when about 20,000 gray whales swim past the San Diego coast as they make their annual migration from the Bering Sea to Baja, California. If you join the three-and-a-half-hour San Diego Whale Watch cruise, you don't have to worry about missing out, as they guarantee a whale sighting.
17. Kayak, Bike, or Snorkel in La Jolla
La Jolla has some of the most beautiful cliffs and beaches, not just in San Diego, but in the world. Experience its beauty by biking down its streets, going over to La Jolla Cove for snorkeling, or kayaking by the coast, where you're likely to spot sea lions getting some sun.
18. Watch a Winter Sunset
The winter months in San Diego have truly amazing sunsets, so make sure you look out over the Pacific Ocean at least one evening. The best views are at Sunset Cliffs National Park, Mount Soledad Veterans Memorial, and Torrey Pines State Natural Reserve. Sunset Cliffs is great for walking along the coastline, the Veterans Memorial is a well-known landmark worth checking out, and the Natural Reserve has several excellent hiking trails.
TELL US! WHAT MORE CAN WE ADD TO OUR LIST OF THINGS TO DO IN SAN DIEGO DURING THIS WINTER?