Tips for staging and decorating your vacation rental property for better results.
As every vacation rental owner knows, the summer can be one of the most lucrative times of the year. As families head to the beach for fun in the sun, owners of Airbnb or VRBO properties have to deal with many of the common challenges they face each year. Although the steady influx of guests during the summer is great, new concerns arise all the time as guests check in and out. Thinking about ways to reduce the wear and tear on your furniture is important if you want to keep your guests happy and your expenses to a minimum.
Your vacation property is an extension of your guests' home.
Decorating your rental is quite different than furnishing a personal home. Your rental must be decorated with furniture that is comfortable and meets the basic requirements of your guests. The furniture you choose needs to look great, but must also be durable. You should not think only about what type of furniture will improve their overall experience but you also should consider all the added touches that can make your guests feel like they are on vacation as well.
When coming up with a plan for the layout of your property, it is important to think about what you like when you go on vacation. Is your vacation property where you would want to stay while on vacation with your family? Is your rental a place where guests will want to return to in the future and recommend to others?
After honestly evaluating these questions, you may decide that it may be time to implement the following:
Select maintenance-free surfaces and materials.
Although high-end furnishings may look nice, they may not be the best choice for your property because guests don't want to feel as though they can't use the furniture or sit down. When selecting chairs and sofas for your rental, you should consider the benefits of selecting sofas that are manufactured with materials like microfiber that can be easily cleaned when stained.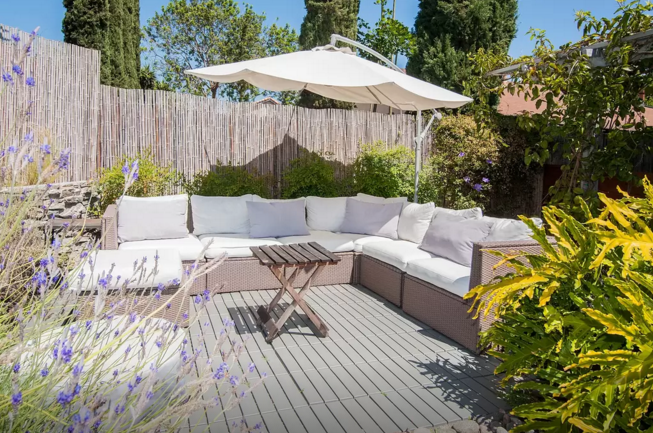 In addition to selecting the right furniture for the interior of your vacation property, you need to make sure the furniture for your patio, porch or balcony is designed to withstand the hands of time. Not every piece of exterior furniture is manufactured the same way. For the best results, you should select furniture that is protected from harmful UV rays.
To save money on dining room seating, you should offer guests alternative places to eat meals and have cocktails. By adding stools around a kitchen island or countertop, equipped with all the essentials, your guests will have other places other than the dining room to eat breakfast, lunch, snacks and drink their cocktails. This in turn will help reduce the wear and tear on your dining room chairs.
Use color to make your rental property unique and stand out.
Whether you offer your rental year round or only during the summer months, you should consider the benefits of getting creative with color. Guests enjoy unique aspects about rental properties when they are on vacation. By incorporating pops of color and thinking about an overall theme that reflects the locale of your property, you will be on your way to creating a memorable experience for your guests.
Vacation properties in a mountain range can be decorated with warm browns that are offset with lighter accents. Vacation homes near a lake, beach or even a pool can be decorated in blues and greens. For rentals located in desert zones with dry terrain, you should consider adding pops of oranges and reds to the overall scheme.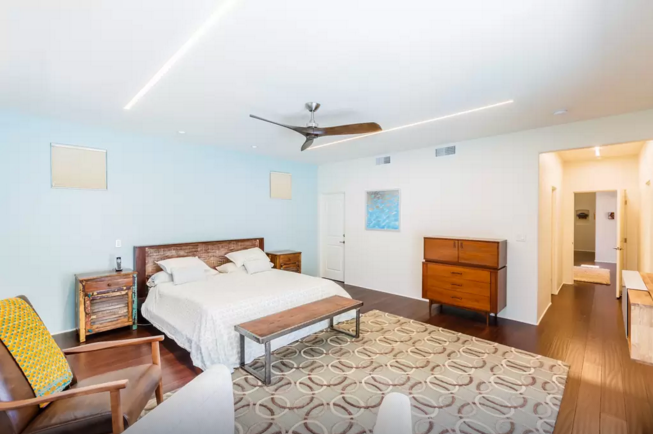 No matter what colors you choose for all the rooms, it is also important to select the right bedding for all of your bedrooms. When it comes to bedding, patterns and prints are a better choice than neutrals and solid colors. This is because prints and patterns camouflage stains much better than light neutral and solid colors. After selecting the bedding, you should select solid matching drapes that help make the room look coordinated and spacious.
Offer guests multiple places to entertain.
Although most of your guests will spend their vacation outdoors, it is important to think about those times when they may not be able to head out because of inclement weather, for example.
When choosing an entertainment center for a home theater, it is important to select a solid unit that has ample storage to keep your space organized by keeping distractions to a minimal. By choosing a well-designed unit that offers ample storage, your guests will have a better time on vacation.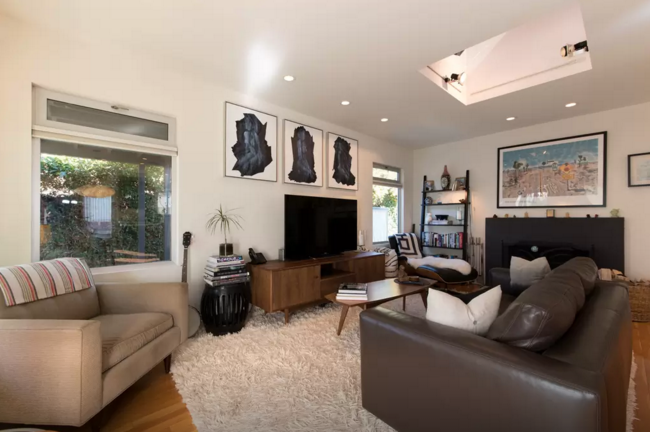 In addition to setting up a main entertainment area, you should consider offering your guests alternative spaces where they can retreat to when they want to read a book, watch a movie or listen to music by themselves. You should consider converting each corner of a bedroom into a small private entertainment space.
Enhance their stay to make it more memorable.
Paying close attention to the furniture and layout is important but you also should think about all the other ways that can make your guests feel extra special. Additionally to leaving a basket filled with fruit or other goods for your guests to enjoy, you should leave all the luxurious toiletries your guests may need, including but not limited to soaps, hand lotions, shampoo and conditioner.
You can also think of other ways to make their stay special. In addition to offering guests beach towels, you may consider giving your guests a pair of courtesy sandals they can use on the beach and take home when they leave. By going the extra mile for your guests, you will be on your way to creating a memorable vacation for your guests and getting great reviews on and offline.
Besides taking the time to decorate your property, you should take the time to gather and organize brochures, menus, a note pad and other important information in a binder that all of your guests can use to learn about the local area. You should also consider the benefits of asking your guests to jot down memorable things about their trip so other guests can read.
When it comes to decorating a vacation property there is certainly a lot to consider. Besides selecting the right color scheme, you have to make sure you choose furniture that your guests will enjoy and will withstand the hands of time. By taking the time to consider all the pros and cons of selecting furniture for a vacation property, you will be on your way to reduce your overall expenses and increase your profits in the long-term by helping your guests have a memorable stay.
Are you interested in a design consultation? Message us below