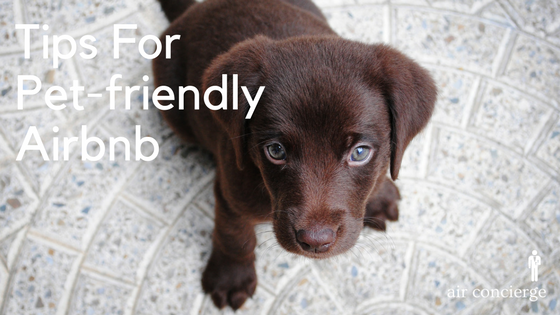 Visit any major city these days, and you'll find more and more shops and services designed to pamper your pets. Bakeries for dog treats, specialty grooming shops and a veterinary hospital every few miles illustrate the fact that pets are a major part of the American lifestyle.
Visit Airbnb listings, and you'll find a major disconnect. The majority of vacation rentals do not allow pets. On the surface, it makes sense. Visiting pets can certainly add an element of worry for property owners. Accidents, damage, pests and diseases could leave significant problems for owners to deal with long after furry guests have left. In addition, welcoming pets may also eliminate any future guests who have allergies to animals.
However, if you're open to pets at your vacation rental, you may have a great opportunity to capture a significantly underserved segment of the vacation rental market. According to
TripAdvisor
, more than half of all people travel with their pets, yet only about 5 percent of Airbnb listings have significant reasons for barring pets. Here are some advantages to offering a pet-friendly Airbnb:
MAKE YOUR LISTING STAND OUT
The vacation rental market is becoming more competitive all the time. Spacious, clean and updated facilities are expected, and even amenities such as swimming pools and hot tubs do not necessarily make your listing super special anymore. Because there are so few rentals that welcome pets, converting your rental to a pet-friendly one will set your listing apart from others.
INCREASE REVENUE
A pet-friendly Airbnb has the advantage of being able to charge more than other rentals. Why? First, because there are fewer pet-friendly Airbnb listings, yours will be in higher demand. Low supply and high demand leads to higher prices. Second, pet owners are used to paying more to take their pets along. After all, if they didn't bring their furry friend on the trip, they'd have to pay to board their pets or spring for a pet sitting service. And, third, you'll want to increase your security deposit to protect yourself from any unfortunate damage or accidents that might occur.
UP YOUR MARKET SHARE
If more than half of all people want to travel with their pets, there is a large, untapped market for Airbnb renters willing to open their properties to owners with pets. You can expect to not only increase your prices, but also increase your occupancy. All that means more revenue for you.
LENGTHEN YOUR GUEST STAY

For Airbnb hosts, the single-night stay is the most expensive of all. You have to do the same amount of pre-work, answering e-mails, arranging key swaps and cleaning for a guest who stays one night compared with a guest who stays multiple nights. If you convert your rental to a pet-friendly one, you are more likely to increase the number of days your guests will stay. After all, if guests leave their beloved pets at home, they will probably shorten their trip if possible. If they can bring pets along, they may add a few extra sight-seeing days, which means a better return on investment for you.

ARE YOU CONVINCED?

If you are now convinced that you should convert your Airbnb vacation rental into a pet-friendly one, here are some tips and suggestions to make your transition a smooth one:

- Gather Information. Open up a conversation about the size, type and personality of the pets that your guests will bring. Ask for photos and details. By talking about the pets early on, you will both set expectations and comfort levels before the guests and pets arrive.

- Check Local Laws. Some cities may have rules about particular dog breeds that are allowed within city limits. For example, some towns do not allow pit bulls. Others may have leash laws and waste-removal rules. Be sure to specify these laws or other pet-related zoning information in your listing.

- Cater to Your Market. Add helpful pet-related information to your listing such as local dog parks, pet-friendly restaurants, or pet supply stores nearby. Stop by some rummage sales or a thrift store to pick up pet amenities like food and water bowls, litter boxes, pet beds, pet toys and scratching posts. Consider fencing part of your property to allow outdoor pet playtime. You might want to have some pet treats available and consider offering add-on services like dog walking or evening dog sitting.

- Communicate Expectations. Be sure you establish reasonable rules for your new pet guests. For example, you may ask guests to clean up after their dogs if they play in the yard or have a policy about barking dogs. If your rental is in a quiet neighborhood, a noisy guest dog can cause neighbors to complain to the local police. This may cause long-term issues for you as a property owner. Ask owners to ensure that their pets properly licensed, vaccinated and free of pests and fleas.

- Consider Your Own Pets. If you are sharing your home with guests and own pets yourself, think about how all the animals will get along. Do you have enough space to keep unfriendly pets separated? Be sure you communicate about your own pets to potential guests.

- Dog Proof Your Home. Be sure that everything that a pet can eat, chew on or break is placed high up or safely away. Consider investing in items like potty mats or indoor pet fences to protect specific areas of the home.
Taking these steps and opening your vacation rental to pets can bring your Airbnb business to a new level of success.