From customary Christmas and holiday parades and celebrations to the migration of gray whales along the Pacific ocean, a visit to San Diego and surrounding communities during the winter offers a tremendous amount of free, fun and holiday experiences. Travelers to the area can ditch gray skies and the wintry freeze for San Diego's radiant sun and perfect climate and enjoy abstract wintertime experiences, with a splash of Southern California.
1. Port of San Diego Bay Parade of Lights
Take in the sparkling waters of the San Diego Bay and hundreds of personal boats outfitted with festive lights for the annual Port of San Diego Bay Parade of Lights over two different weekends in December on the 13th and 20th. The best viewing is available on land on Shelter Island, the Embarcadero, Harbor Island, Seaport Village, Coronado (Ferry Landing) and Marina Park.
Dates: December 13 & 20, 2015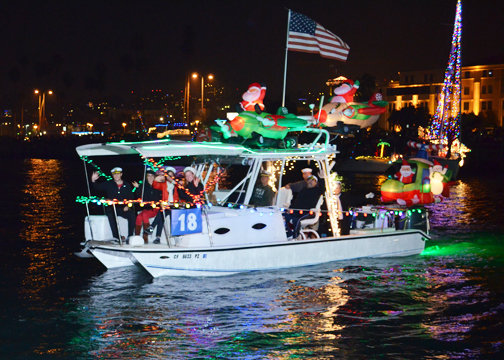 2. Port of San Diego Holiday Bowl Parade
Get geared up for the largest balloons you've ever see in the USA's greatest and largest balloon parade. This holiday parade takes place along San Diego Bay near downtown and includes everything from balloons, marching bands and floats.
Date: December 30, 201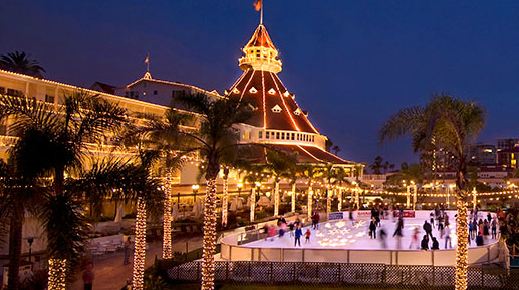 3. Hotel Del Coronado
Take the Coronado Bay Bridge from San Diego to Coronado and slip into the world famous Hotel Del Coronado for a hot spiced drink and a throwback to Christmas at yesteryear. 'The Del' (as it is affectionately called by locals) is a long standing San Diego landmark that caters to out of towners and locals alike with its antique charm and overwhelming presence along the white sandy beaches of Coronado. WIth no shortage of holiday festivities on the property including tree lightings and free gifts for children on special surprise occasions, the Del is a cannot be missed holiday hotspot. Perhaps the biggest treat of all is the outdoor ice skating rink.
Dates: All of December
4. December Nights in Balboa Park
Historically Christmas and the holiday season starts with December Nights in Balboa park, a grand celebration featuring brilliant light displays, theatre and music entertainment and outlandish food and drinks throughout Balboa Park. Because it's free, get ready for larger crowds over the two day period.
Dates: December 7 & 8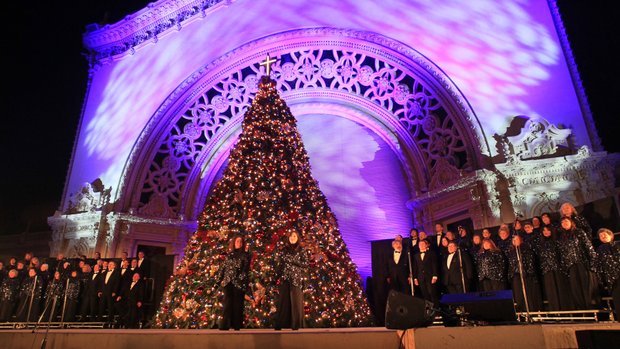 5. Christmas at the Prado
Christmas at the Prado is no longer the best kept secret for San Diegan's looking to take in the holidays in style. Food from around the world is served at the International Christmas Festival at the House of Pacific Relations Cottages, as well as the Santa Lucia procession at the Museum of Man. The Prado also offers wonderful shopping at all museum stores as well as the artistry of Spanish Village. You can also get the most amazing light displays at the Spanish Revival in the Plaza de Panama's entertainment area where the world famous Cohn Restaurant Group and Prado have partnered up to sponsor the December Nights Holiday Spirit Lounge.