In our first trailer video (pun intended), we told you that we were going to take you behind the scenes of life in an Airstream. If you've been keeping up with us and following our blog, then you know we are Southern California homeowners with a second home in Lake Tahoe. In the past when one home has rented out we've ventured to the other. And when both homes rent out, we've traveled (last year we spent the summer in Italy).
But this year, with Air Concierge going from a friends and family venture to a full blown operational business, we haven't had the luxury of just picking up and taking off. But we also haven't stopped renting our home. Which has meant spending a chunk of the money we were making staying in other Airbnb and VRBO properties. So we bought our third home, on wheels. And we love it!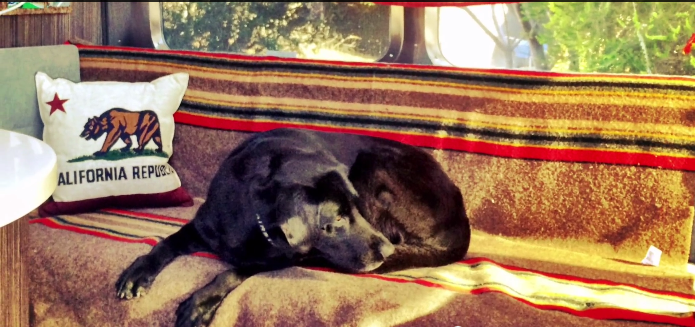 For our first real episode we wanted to go from the basic, stock, interior design that we had to something more apropos for the seasons. Actually to be a bit more specific we were going from a cool, modern, clean, sleek interior look (courtesy of the previous owners) to something more fall-season appropriate. And with that being said, now's as good a time as any to thank the previous owners (and new friends Ian and Kristie of Sacramento, CA) for not only helping us making our dream come true but doing so in the most awesome way possible. Quick side note: after we reached an agreement with Ian & Kristie to purchase the Airstream, we drove up to Sacramento arriving at their place at 4am. Having never met, they insisted we spend the night in the Airstream and that we would complete the transaction in the am. So we did that. And it was awesome and kind and thoughtful. And to make it even better, before crunching numbers we joined them for breakfast out, figured out how much we all had in common and then returned to do the 2+ hr. walkthrough of the 'stream. How cool is that? (Ian & Kristie, if you're reading this, thank you again for everything and more. We are totally infatuated with the Airstream, the life-style, the new way of the world for us and none of it would have been possible without your generosity.)
This episode is us getting inspired to redesign the interior, picking a theme, exploring our local shops, and going on a treasure hunt. We hope you enjoy and look forward to sharing our new Airstream Cabin.