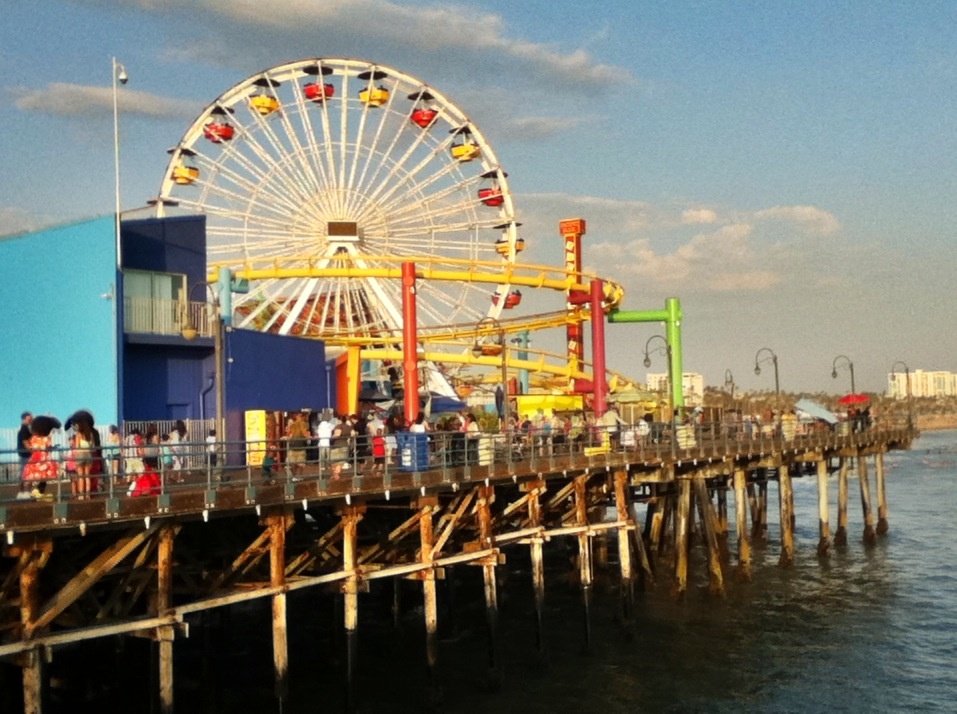 It's that time of year to celebrate your loved ones, significant other, wife, friend and anybody else who is important in your life on Valentine's Day.
But this year, be different from the crowds at romantic restaurants. Why not skip the chocolate, the roses, and the sappy greeting cards in exchange for something more hip? Whether you are visiting and staying at a vacation rental or live in the area, Los Angeles is the place to celebrate in grand fashion.
There is so much to do in and around L.A. that you may have to start out early in the morning to get it all done. Fortunately, this year Valentine's Day is on a Saturday, so you can use Friday and Sunday for some spill-over fun. Here are some alternate ideas to try for the Valentine's Day holiday.
See the Stars
Whether you want to gaze longingly into each other's eyes or have fun with the family, do it under the stars at the Griffith Observatory. This place screams romance, fun, and it's also where Rebel Without a Cause was filmed among other films. If it was OK for James Dean, then it will be memorable for you, too!
As one of L.A.'s most popular spots, the Griffith Observatory offers beautiful views, cool architecture and all sorts of places to explore. Check the schedule for free nighttime star shows for a bit of romance or more.
Maybe before you can out the stars, skip getting gussied up and grab your sneakers. Go ahead and check out one of the hiking trails in the lovely Griffith Park, one of the most scenic locales in L.A. Nestled high above the tree-lined neighborhood of Los Feliz, it's the perfect place for a picnic, hand-holding or a place to plant a kiss on your partner.
Fun Times
If you have the kids or just want to be a kid this Valentines' Day, put on something comfy and go play some arcade games or go bowling at X Lanes in L.A.'s Little Tokyo. There are 24 lanes of LED-lit bowling and more than 100 arcade games, a nine-table billiard room and karaoke where you can serenade your beloved. X Lanes also has a restaurant and full sports bar if you want to look into each other's eyes while enjoying some bar food and a cocktail.
Beach Run
What's Valentine's Day without a trek to the beach? It is SoCal after all and the City of Angels exudes romance. Check out El Matador Beach where sandy shores await. Six miles north of Malibu and 25 miles from Santa Monica, it's past just past Leo Carrillo Beach, accessible via a steep path. Wear shoes and leave any extra gear in the car, however, be careful as there are no lifeguards or other facilities around. It's super private to enjoy a family get-away... or a place to propose perhaps?
El Matador and nearby El Pescador and La Piedra beaches form the Robert H. Meyer Memorial Beaches. All three are worth a visit; $8 in the self-pay parking lot or try for a spot on PCH.
Movie Madness
If you want to snuggle at a movie, don't opt for the ordinary cinema setting. The historic gem, single-screen vintage Vista Theater plays movies on actual film reels of yesteryear. Adorned with Art Deco light fixtures, and Egyptian-themed wall details it will make you feel as if you are in a different time period. If you're with family, the kids might get a kick out of the way movie houses used to look before IMAX!
Pretty as a Picture
Don't forget the Eastside's historic Echo Park Lake with its boathouse, track, lighting and railings, plus new landscaping, picnic tables and grills. The lotus gardens have been updated —with water lilies float along the water — even the 'Lady of the Lake' statue is back to overlook the fountain. It's a beautiful spot with water birds, grassy knolls and pedal boats rented by the hour. Cost is $10 per person.
Santa Monica Pier
Last, but not least, don't forget to take a stroll along the famous Santa Monica Pier. The pier offers a mini amusement park, aquarium, fairground games and cotton candy stands. What says 'I love you,' better than winning your date a cute stuffed animal at one the games or sharing some funnel cake while overlooking the ocean? End the day or night with a kiss at the top of the Ferris wheel.
Whatever way you decide to spend Valentine's Day weekend or with whom, make sure it's memorable in the City of Angels. You can head back after a long day of celebrating and crash for a good night's sleep. If you didn't get to see everything you wanted, there's always tomorrow!
About the Author: Debbie L. Sklar is a freelance writer and editor based out of Southern California. She specializes in writing about lifestyle, fitness, food, DIY and celebrities. In her spare time, she enjoys playing with her Shih Tzu, Gabby, playing golf and is writing a book about a former Hollywood actress.
Image: Wikipedia