This year, Valentine's Day falls on Saturday, which means couples have a wonderful excuse for a weekend getaway. If you've been getting inquiries or bookings for the upcoming lover's holiday, congratulations! (And if you haven't, try changing your online listing to advertise just how romantic your vacation home is.) Take a little extra time before your travelers arrive to turn your destination space into one specifically for your couple(s).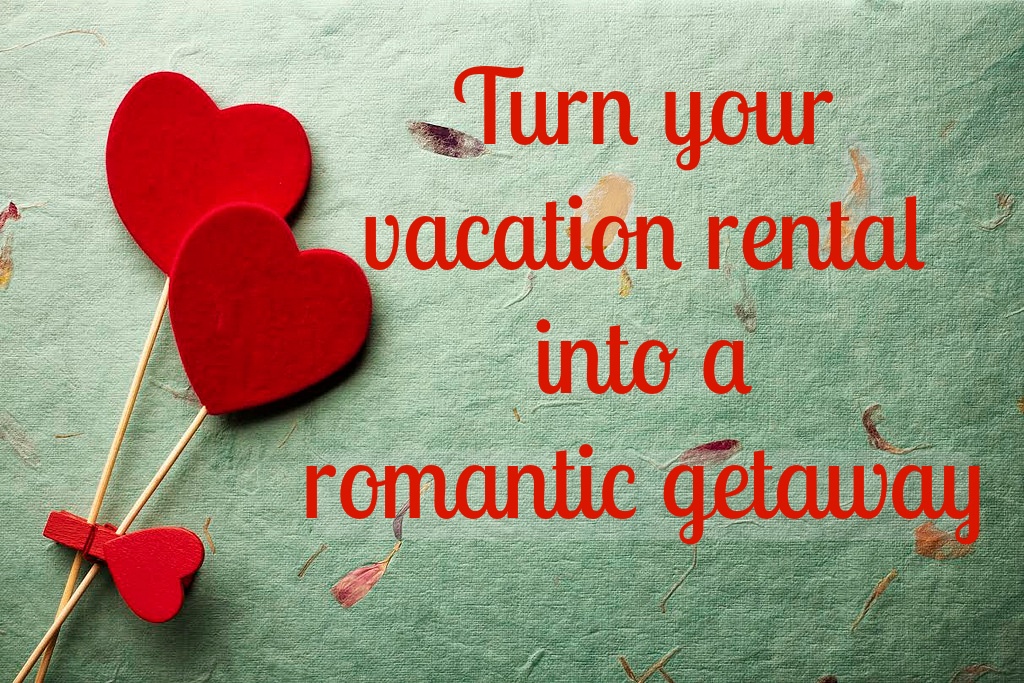 First, see if you can find out a little more about your guests and their interests and plans for the weekend. Any little insight will help you make your abode the perfect romantic retreat. But even if you know nothing about your guests, you can still make your vacation home feel personally tailored to their needs.
Welcome gift. We've discussed the ideal vacation rental welcome gift before, but Valentine's Day is not your average weekend trip. Step it up a notch for your guests. If you normally leave a simple box of gourmet chocolates, add a bottle of champagne, some fresh fruit, a local delicacy, or ingredients to make their first meal. If you can procure something homemade, even better! Leave a personalized, hand written note with your gift, too.
Fresh flowers. Even if flowers aren't usually your thing, or it's difficult to get them in your area, make the effort for Valentine's Day. They don't even have to be roses (though you'll probably be able to find those just about anywhere and they always do the trick), but a simple vase of fresh, colorful flowers will make any room feel brighter and more inviting.
Music. Before your guests arrive, have a playlist stored for them that they can access and stream through your iTunes or Pandora account, or on an iPod connected to a speaker. Preloaded love songs will set the mood like no other! Here are our suggestions, but feel free to add any others you like, or any others you know your guests will appreciate:

Endless Love, Diana Ross & Lionel Richie

I'll Make Love to You, Boyz II Men

You Needed Me, Anne Murray

Be Without You, Mary J. Blige

We Found Love, Rihanna featuring Calvin Harris

How Deep Is Your Love, Bee Gees

And I Love Her, The Beatles

Something, The Beatles

I Will Always Love You, Whitney Houston

I Can't Stop Loving You, Ray Charles

Lighting. There is nothing worse than walking in to a room filled with stark white LED lights, especially at night. And while LEDs do the trick as it pertains to the electricity bill, for this weekend only, switch out those LEDs for the old school yellow bulbs (or better yet, change a few out to red). If you've been considering adding a dimmer setting to your lighting arrangement, make the switch now. In addition, try leaving some battery operated votive candles around the bedroom and bathroom, especially if you have a shelf just above the bathtub.

Rose petals. It may seem cliché, but some well-placed rose petals will undoubtedly leave a lasting impression on your guests. A trail of petals from the front door to the bedroom, with a few scattered across the bed itself, will make them feel as if they are in a romantic movie. You will want to be sure those rose petals are cleaned up, so this is a better option for shorter stays. Also, if you have white carpet or a white comforter, take care by placing a throw over the comforter and avoiding carpet. A few stand-alone vases with single roses around the house will be a small but constant reminder that they're there for love.

Spa items. Like how luxury hotels leave fine soaps and bath products, leaving these items for your guests will be appreciated. If your space accommodates it, decorate the rim of the bathtub with fluffy towels, candles, and delicate soaps (locally made soaps are best!). If your home is higher end, you might even consider offering to get your guests a couples massage.

Neighborhood tips. Even if you usually leave a list of things to do for your guests, make a special Valentine's Day Edition. In this list, include a wine bar, a massage parlor, a romantic restaurant, an outdoor couples activity, and an indoor couples activity. You'll score extra host points by offering to make reservations for your guests ahead of time.
Are there any other ways you're making your vacation rental more romantic for Valentine's Day? Let us know! Share your tips on Facebook.