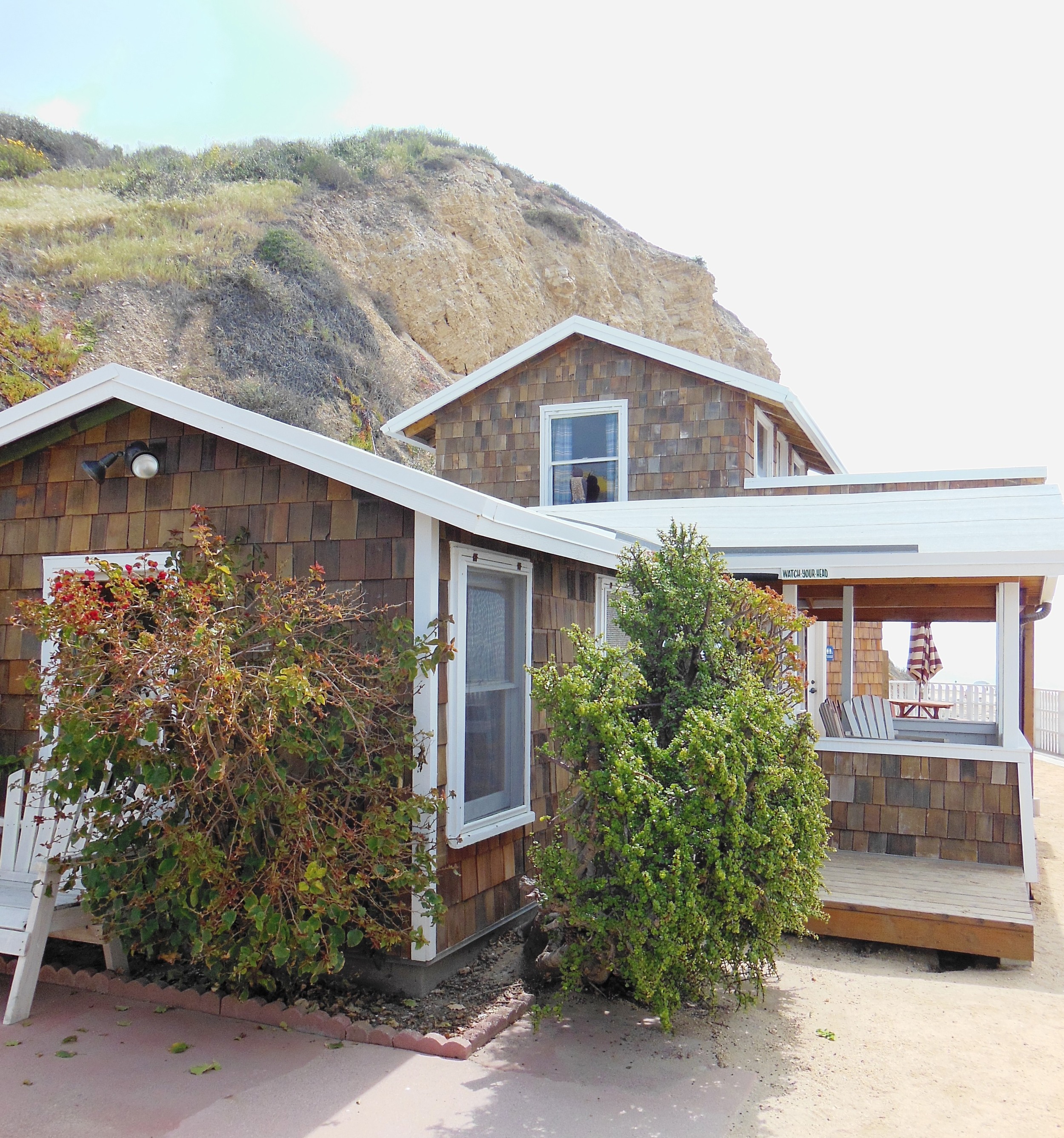 Some beaches are more memorable than others.
Take Newport's Crystal Cove - once home to individual cottages and now a national historic site, it's also a place where a lot of movie magic has been made over the years. Whether you are visiting Orange County and renting a place while you're vacationing or you are a resident, this is one venue you don't want to miss.
Movie Magic
While doing some research, I found it astounding to learn that so many famous film stars' footsteps have hit the golden sands there, including Gloria Swanson, (Sadie Thompson, under the name Rain, 1928) Jackie Cooper, (Treasure Island, 1934) Gary Cooper, (Half A Bride, 1928) Humphrey Bogart, Lauren Bacall, (To Have and Have Not, 1944) and even the Divine Miss M (Beaches, 1988).
I love old movies so I became more than intrigued as I dug around to find info about Crystal Cove.
I learned that from black and white silent films to the more recent Golden Globe Award-winning miniseries about James Dean, (TNT's James Dean, starring James Franco, 2001) Crystal Cove has served as a remarkable backdrop. But with Hollywood a mere 50 or so miles away from this little bit of paradise, why choose Crystal Cove over the moviemaking capital of the world? Let's journey together through movie reel history to find the answer.
As early as the mid 1900s, the three-mile beach was considered to be one of the premier locations in Southern California, yet in the 1920s, it was virtually unheard of.
Superb Coastline
According to the Crystal Cove's Interpretive Plan (Marvin Brienes, Bob Hare and Eileen Hook, January 1985), "Orange County was one of the areas within reach from LA that contained the variety of scenery sought by the motion pictures producers. The coastline of the county, including Newport Beach areas and almost entirely underdeveloped region below Corona del Mar, provided excellent opportunities for shooting. The fact that lack of accessibility had discouraged settlement and construction was a positive attraction for filmmakers looking for unspoiled scenery."
Such films partially shot at Crystal Cove include: The Sea Wolf according to Orange County noted historian, Jim Sleeper in his book, Great Movies. "Before the opening of the Coast road, the area south of Newport was isolated and sparsely populated enough to serve as setting for movies calling for beach or oceanfront scenery."
Cameraman Charles Clarke recalled the ideal conditions along the section of the coast in 1920 in a letter to Sleeper (Feb. 10, 1978): "We were filming an episode of The Son of Tarzan, and needed a primitive shoreline-palisades area where Tarzan could come ashore. There was no Coast Highway then, so after a long drive around the head of the bay, we finally arrived in Corona del Mar. I remember there was only a one-frame building on the headland overlooking the harbor entrance — a sort of tavern, where our little crew put up.
One shot called for a primitive expanse of shoreline. Just south of here you could shoot along the shore as far as the lens could see, with no sign of habitation, transmission lines, piers, boats, etc., to mar the scene. The cliffs obscured any sign of development above." (Sleeper, Great Movies)."
Classic Films
At the same time, the silent film industry was booming and one way to draw attention to a film was to shoot a classic. Robert Louis Stevenson had written Treasure Island in 1883, and it was an instant and widely read success. Several versions of this classic were made by the film industry, the first in 1920. Sleeper notes that this film was made on the coast 10 miles below Rocky Point; the original name for Corona Del Mar. Maurice Tournier did this early version of Treasure Island at the beautiful and scenic spot, which could so easily have been in the South Seas. It was also considered an ideal location outside of Hollywood because the climate was considered perfect.
Writer Somerset Maugham wrote Of Human Bondage in 1915 and became renowned. Again, filmmakers could develop his work and draw on his wide readership and popularity.
An early version of Rain was released under the title of Sadie Thompson, starring one of the 1920s most popular stars, Gloria Swanson. This film was a United Artists release in 1928, and much of it was filmed at the Cove.
By 1928, the Cove was a recognizable and favorite film location. Esther Ralston and Gary Cooper starred in Half a Bride, shot on the beach and in the palm-thatched cottages, and Monte Blue made White Shadows by MGM. Also in 1928, a world-famous couple, Mary Pickford and Douglas Fairbanks Jr., enjoyed a cottage just down the highway from Crystal Cove at Emerald Bay, and it was indeed "America's Sweetheart," who tied two ribbons symbolizing the uniting of Laguna Beach and Corona del Mar by Pacific Coast Highway.
The Cove continued to be used as a potential movie set throughout Hollywood's heyday and early cottage dwellers remember that management was strict about maintaining its appearance. Hanging clothing on an outdoor clothesline was not permitted and each cottage was required to be palm thatched. Power lines were brought in around 1937, and destroyed the illusion, but the reputation of Crystal Cove as a movie set continued for years to come.
Tenters
John and Jean Barnard, whose parents came as tenters in the 1920s, built their cottage, No. 21. Jean recalls the first owner next door to them was the screenwriter of Dial M for Murder, (Frederick Knott) and that movie siren, Veronica Lake, filmed some movie scenes in a nearby cottage.
Beaches and More
In 1988, Garry Marshall's drama, Beaches, about a 30-year friendship between two women, one wealthy (Barbara Hershey) and the other (Bette Midler) seeking her fortune in show business appeared on the silver screen. The film, which had an estimated budget of $20 million, was shot in Metrocolor and many of the scenes with Hershey sitting on the deck of the home were filmed at cottage No. 13, belonging to the Lowes.
In August 2001, Franco starred as the legendary film icon James Dean in the TNT original film, James Dean. Academy Award-nominated director Mark Rydell (On Golden Pond, The Rose) directed the two-hour film, which was executive-produced by Bill Gerber and Rydell; George W. Perkins produced.
The house has been renovated and preserved and is now open for tours, of which I did recently and loved. I could envision Midler and Hershey exchanging dialogue from the movie as I walked from one room to another.
"We choose Crystal Cove because of its similarity to an early Malibu," producer Rob Pearson said. "Crystal Cove has kept its 'local' feel without the usual big commercial developments or the invasive homogenized design of so many parks and recreation areas. It was fantastic, but it was a difficult location in regards to logistics, for example, truck access, etc. The local community was mostly wonderful and supportive and interested in what we were up to," he continued. "I have since taken my family back to show them this little slice of paradise."
Rent a Cottage
Today, 16 of the cottages have been refurbished and are now part of a historical tour open to the public. Also, the Crystal Cove Alliance's innovative education programs invite participants to get involved with the science of land management and restoration.
Perhaps Pearson said it best: Crystal Cove is still a treasure, and should always be remembered as such.
So if you are looking to step back in time to another era when days and nights were more carefree, checkout this Orange County jewel, you'll be glad you did.
About the Author: Debbie L. Sklar is a freelance writer and editor based out of Southern California. She specializes in writing about lifestyle, fitness, food, DIY and celebrities. In her spare time, she enjoys playing with her Shih Tzu, Gabby, playing golf and is writing a book about a former Hollywood actress.
Image by Debbie Sklar